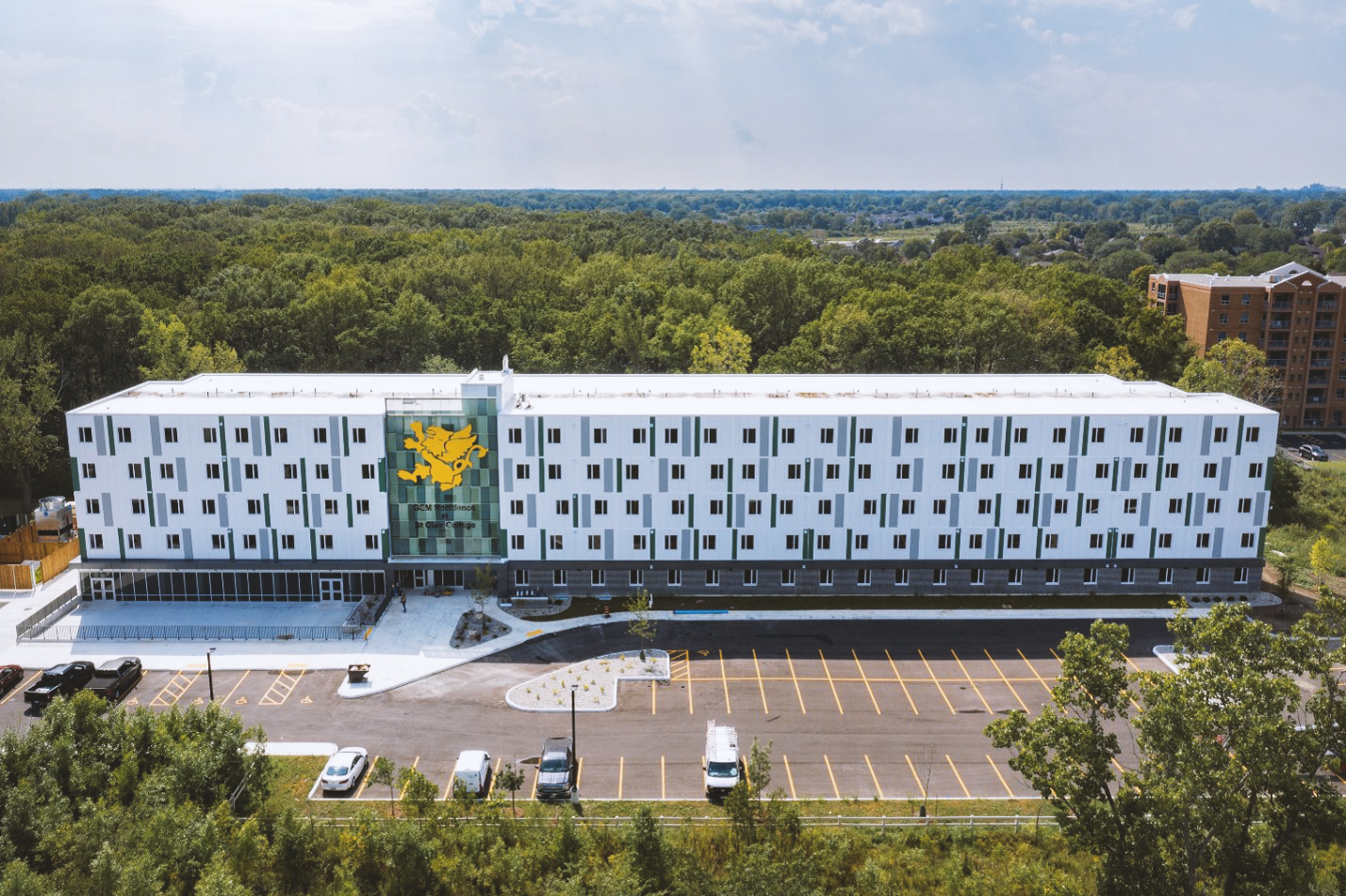 The GEM Residence is located on St. Clair College's main campus in Windsor, Ontario.
All international students enrolled in the Computer Systems Technician - Networking (T860), Construction Engineering Technician (T036) or Business - General (B604) programs must reside in this residence for their first semester of study. This unique bundled experience (tuition + residence) provides the opportunity for international students to obtain longer-term accommodations once they have arrived in Windsor and have a chance to get acclimated to our community. The maximum length of stay in the GEM Residence is 4 months during the first semester of study. If you leave the residence prior to the expiration of the 4 months, there are no refunds applicable.
For any questions or inquires related to the GEM residence please contact scarter@stclaircollege.ca or gem.residence@outlook.com.
Below are some FAQs related to GEM
Suite of 4 rooms with the capacity of 8 residents in each Suite.
WiFi
Cafeteria (no food services available)
Fully furnished rooms (2 beds, 2 desks and chairs, 2 closets)
Laundry room on-site (Residents required to load balance on laundry card)
One telephone (per Suite) with free local calls
Two shared bathrooms (with shower and toilet) in each suite.
Shared kitchenette (Fridge, kitchen table with 8 chairs, Microwave, Cabinet and sink with counter space, Thermostat)
All cooking devices must have an automatic shutoff, be approved by CSA, and must not have an open-element (for example stove, hot plates, deep fryer and indoor grills are not permitted). All appliances will be checked for approval by a Residence staff member. Toaster ovens, slow cookers, rice cookers, and toasters are great examples of what you can bring. If you have any questions as to what is safe and approved, just ask!
Information about pickup/transportation from the airport can be obtained by contacting St. Clair College's International department.
Residents are responsible for keeping their own rooms clean, including bathrooms and kitchen area. Broom and dustpans are available; please visit the front desk to borrow one. All residents share responsibility for the neatness and cleanliness of the residence facility and your
 
contribution in this area is a necessary part of residence life. The residence housekeeping staff clean the lounges and common areas in the building. Maintenance staff will enter the suites 1-2 times per week to clean common areas such as the kitchen, washroom and dining area. Bedroom checks are conducted occasionally as required.
The Residence staff, with the assistance of Campus Security, is committed to providing students with a sense of safety and security while living in residence. Students can also help maintain this atmosphere by reporting any unusual circumstances within the residence to a Residence Staff member. Residents may be required to show ID at the request of residence staff members. The residence building is equipped with video surveillance. All stairwells, hallways, lobby areas, and entrances are monitored on a 24-hour basis. Residents tampering with surveillance equipment will face disciplinary sanctions and/or fines up to and including contract termination. The front desk is staffed 24 hours per day and is in direct contact with campus security.
Residence Staff and campus security have the right to enter a resident's room for the purpose of maintaining or inspecting facilities or if we have evidence or suspect severe damage to the suite. Notice of such entry will be given in advance, whenever possible. Submission of a "Maintenance Work Order" form constitutes your permission to enter your room and complete the repair without further notice. Entry without notice may also take place in circumstances where the health and safety of a resident is concerned or if we suspect the student is a danger to themselves, a guest or the security of the Residence is at risk. All suites can be inspected at any time with short notice if we suspect or have evidence of these things. Otherwise, we will provide 24 hours' notice before entering the suite.
The front desk will accept mail and courier packages. Please be sure to have the student's legal name on the mail/package or it will be returned to the sender. You will not need to indicate room numbers.
Please have mail addressed in the following manner to ensure prompt delivery.
GEM Residence
3900 Geraedts Drive, N9G 0E2 Windsor, Ontario.
Yes, you can order online groceries or food but you need to keep track of the expected delivery time. Make sure to be available at the front door to receive your order.
No, parking is not included in fees. Residents may purchase Semester parking passes from the college website and will park in the lot at the front of the residence, though there are no
 
guaranteed spaces in this lot so purchase early. Daily passes can be purchased at the meters. In the event of heavy snowfalls, you will be required to move your car to allow for snow plowing. Detailed instructions will be provided prior to the plowing. If you do not move your car, it will be towed and you will be charged for the cost of the towing and you will also be responsible for any damage to your car as a result of the towing.
If there are maintenance problems in your room (such as burnt-out light bulbs, running toilets or leaking sink faucets etc) please go down to the front desk and fill out a maintenance work order. Maintenance staff will come to your room and fix the problem as soon as possible. All requests are prioritized and you will receive a notification upon completion of your request.
We have friendly faces behind the front desk who can answer your questions about the residence. The front desk is maintained by experienced staff, twenty-four (24) hours a day and seven (7) days a week. They monitor access to the building, help you into your room if you have locked yourself out, and deal with noise complaints (all noise complaints are dealt with confidentially). The front desk can be reached from any phone in the GEM Residence at extension 5010. To contact the desk from outside of the Residence (your cell phone for example) please call 226-722-7595.
You can also share your concern with Residence Life Coordinator (RLC) or Front Desk Coordinator, they are available Monday to Friday from 8 AM to 4 PM.
Students wishing to transfer rooms can speak with Front Desk Coordinator. Room changes will depend on the resident's individual situation. The coordinator will make changes in room assignments whenever they believe changes are necessary or desirable. You will generally not be left in a double room alone should your roommate move out.
Two guests at a time are allowed in the residence. Residents must sign in their guests at the front desk before they enter the residence. Guests are required to leave their photo identity upon sign in. Procedure for registering overnight guest is different. We have rules around guest's policy in GEM. You will be explained rules in the orientation.
You can move into residence any time of the day between the dates mentioned below. We are operative 24 hours a day and 7 days a week.
August 30, 2023 to December 17, 2023 (NOTE: December 17, 2023 will be move out date for the Fall semester
Please be advised that you have paid for GEM only for the first semester of your enrollment.
You must provide 2 passport-size photographs and paid fee statement from the College immediately upon arrival.
We do not give out your room number prior to your arrival. The reason for this is that changes to our room registry may occur before you arrive and we want to ensure we provide you with the correct information about your room. This information will be given to you upon your arrival.
The Residence front desk is open 24 hours a day 7 days a week. We are available for questions, comments and/or concerns at any time you have some.
If you wish to withdraw from residence, please contact Stephen Carter (Manager, International Recruitment and Project Development). Please note that withdrawal from residence does not guarantee a refund of residence fees.
Email: scarter@stclaircollege.ca
GEM Residence does not offer meal plan options. Your suite includes a refrigerator and microwave with extra space for some cooking appliances (see Question 2 for details). In addition, a common kitchen with full-sized stoves is available for the residents. The neighbourhood features a nearby grocery store (Walmart, Food Basics, Freshco, India Grocers, Bhullar's Indian Grocery, India Food Market) and many dining options (such as Biryani Palace & Grill, Hurry Curry, Eastern Flavours and India Paradise just to name a few).