Windsor Campus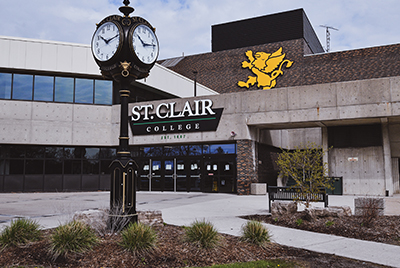 St. Clair College's main campus is home to over 6,000 students studying in over 120 programs in the areas of Health Sciences, Community Studies, Engineering Technology & Skilled Trades, and Business and I.T. Thanks to the on-campus 204 – 2 bedroom suite residence, students will find that living in residence adds considerably to their college experience. The newly opened SportsPlex is across the street from residence and offers students the very latest in fitness training in the 10,000 fitness centre, an elevated indoor track, and triple gym that is home to our Saints Varsity program.
The campus boasts a number of new academic buildings that enhance student learning including the Centre for Applied Health Sciences, which houses all of the learning labs for our 12 Health Science programs, and the Centre for Construction Innovation & Production which supports our skilled trades programs.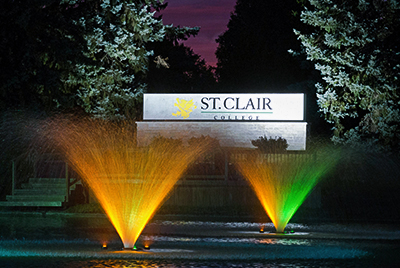 If you are an athlete, St. Clair College supports a comprehensive sports program through our Saints Athletics club. There are 18 varsity teams that compete in men's baseball, women's fastball, men's & women's outdoor soccer, men's & women's indoor soccer, men's & women's volleyball, men's & women's basketball, cross country, men's & women's badminton, men's & women's golf and men's & women's curling. The College also offers a very comprehensive scholarship program providing varsity athletes with the opportunity to receive the maximum scholarship offered through the OCAA, $1,250 per sport semester when you maintain a level of academic eligibility.
---
St. Clair College Centre For the Arts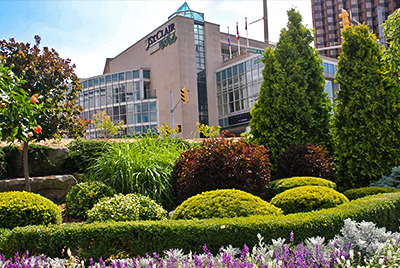 Our downtown Windsor campus sits on the banks of the Detroit River and offers an outstanding view of the Detroit skyline. Access to river walk trails, great eateries and more make this campus a real stand-out. There are over 800 students who study in our School of Media, Art & Design at our downtown campus. These programs include Advertising, Graphic Design, and Hospitality Management, and a suite of Justice Services' programs including Border Services, Paralegal, and Community & Justice Services. This facility is also home to our Performing Arts programs, Music Theatre Performance and Entertainment Technology, where they perform numerous times a year in the 1,200 seat Chrysler Theatre.
---
MediaPlex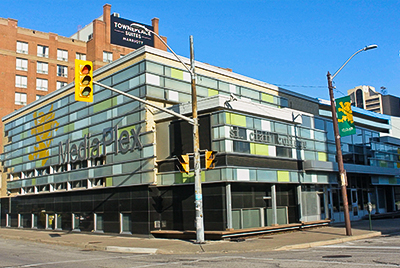 Directly south of the St. Clair College Centre for the Arts is the MediaPlex. This unique facility was built to house our "convergence" Journalism, Media Convergence and Public Relations programs. The facility offers a large studio, radio and video editing suites and a central news station for assignment editing. Convergence Journalism provides students with the skills to be proficient journalists in television, radio, print and social media. Our comprehensive Tourism & Travel program is also located in the MediaPlex and offers students a wonderful work/ study program with the Disney College at Disney World in Orlando, Florida. This popular element to the program gives students the opportunity to work, live and earn academic credits for the St. Clair College Tourism program, and for Central Michigan University.
---
Zekelman Campus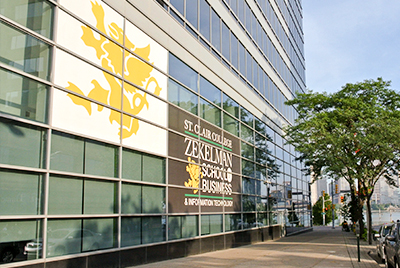 The newest addition to our Downtown Campus is the Zekelman School of Business at One Riverside Drive, directly across the street from the St. Clair College Centre for the Arts.
This new facility features lecture labs for students studying in Business, International Business Management and the new Data Analytics for Business.
---
Chatham Campus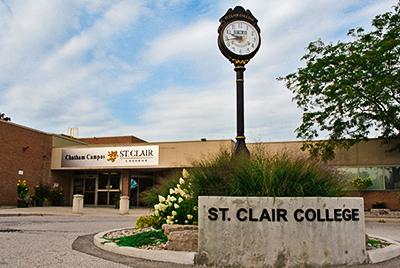 Chatham Campus, located in Chatham, is just a short 45-minute drive from Windsor. This small, intimate campus with 1,300 students, specializes in health sciences, community studies, business and technology programs. Chatham Campus has an on-campus townhouse-style residence which houses 48 students. The campus HealthPlex, which features a double gym, 5,000 sq. ft. fitness centre and elevated walking track is the perfect place for students to work out, play a game of hoops or jog the running track. If you're interested in residence life, apply to this one early - it's very popular with students.
---
TD Student Success Centre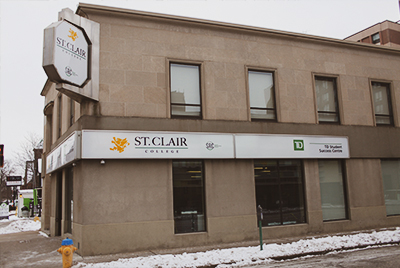 The TD Student Success Centre is managed by the Student Representative Council (SRC), located at 305 Victoria Ave. (Victoria Ave. and University West) in downtown Windsor across from the College's MediaPlex. Opened in 2012, this student centre provides open labs, student study rooms, common areas, kitchen, tv lounge and is the home of the downtown student's food bank. This space also is used for tutoring and has offices for the SRC. Formerly, a TD Bank building, this two-storey building was donated to the College from TD Bank in early 2012 and was renovated by the SRC and the College. For open lab hours, please call 519-972-2756.
---
Skilled Trades Regional Training Centre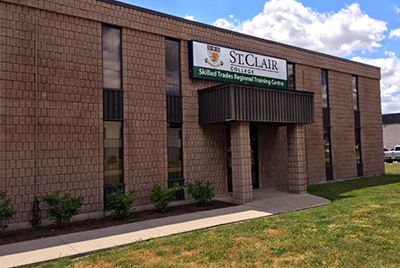 3403 St. Etienne Blvd.
Windsor, ON N8W5B1
226-315-1235
Students of the St. Clair College Skilled Trades Regional Training Centre participate in the "Earn While You Learn" program. This program provides students with paid learning and work experience. The students will become proficient in math and blueprint reading and will receive hands-on training with a wide variety of state-of-the-art equipment. At the Training Centre, students are trained on real jobs that must meet our industry partners' quality standards and deadlines, which effectively trains students for their future employers.
The Training Centre has three state-of-the-art 5-axis vertical milling machines equipped with FCS systems. We also have several 3-axis machining centres, manual and CNC lathes, manual vertical milling machines, surface grinders, OD grinders and a CMM inspection machining. Our students work closely with our industry partners for hand-n tooling of complex parts, assemblies and fixtures to develop a very diverse skillset.